Ebara Daisuke

Statistics
Name (Kanji):
江原 大介
Status:
Dead
Gender:
Male
Family:

Wife (left him)
Children (taken as collateral)
Ebara Daisuke is the economics professor at Heisei Financial University. He was an Entre with a Gold Midas Card, but after his Deal with Kimimaro, he went bankrupt.
Appearance
Edit
He is always seen wearing a brown jacket over a black shirt and normal jeans. He has short brown hair and green-silver eyes.
Personality
Edit
He is a kind person who wanted to be a good father and husband. Even when he lost his family due the bankruptcy from a Deal, he remained kind. Still, he almost lost sanity, even with his kind personality.
It seems that Ebara has been in the financial District business for some time before Kimimaro did. He would have been called a veteran if he had lasted longer.
Before Kimimaro became an Entre, Ebara was his teacher. But when they confronted in the duel, he did not care whatsoever were to befall upon Kimimaro if Ebara were to win. He is an experienced Entre, and his asset Keel successfully overwhelms Kamimaro with its Flation, Poison Pill. However, he did not have the firepower necessary to resist Msyu's Scorched Earth after Mikuni buys her stocks and just barely saves Kimimaro from bancruptcy. Ebara lost, but instead of lashing out at his opponent, he talks with him about the meaning of bankruptcy and the future taken by the Midas Bank as collateral.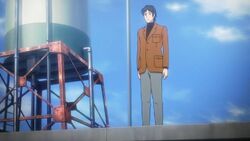 He makes Kimimaro promise to never go bankrupt so that there is a person other than him who remembers his erased children. After the deal, he attempts various ways to try and regain his future such as paying Midas back and finally tries to sacrifice himself for them. He attempts suicide later on but is stopped by Kimimaro. Daisuke then explains that even his thoughts escape him, leaving nothing in his own future. He dies shortly after as he is involved in a car accident.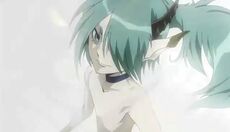 Keel is Daisuke's Asset. He had the shape of a horned imp-like creature, covered in purple fur below the waist, with silver-sky blue hair. After having lost to Kimimaro, Keel was presumably repossessed by Midas Bank.
Mezzoflation - Poison Pill
Edit
This flation extends a shadow that traps Entres into a constant state of money loss, slowly draining their funds.
Relationships
Edit
He had a wife and three children. But after going bankrupt, his children disappeared and his wife left him because he wished for her not to suffer with him any further.
He is the first Entre who has gotten bankrupt during a Deal with Kimimaro. He is also the first familiar person Kimimaro had to face.